Now is the perfect moment to dive into Apex Legends, as Post Malone joins forces for a thrilling two-week event filled with stunning chaos.
Apex Legends and Post Malone have teamed up for a game-changing two-week event. Featuring a new mode, Three Strikes, and stylish cosmetics inspired by Post Malone's gaming passion, the collaboration blurs lines between gaming and entertainment. This event isn't just about playing—it's a celebration of creativity, fashion, and shared gaming love. Get ready for a unique gaming experience shaping the future of collaborations.
It is the season for crossovers into video games as we just saw the LE SSERAFIM skins released for Overwatch 2 and Lightning McQueen get announced as a car for Rocket League.
Three Strikes: New Limited-Time Gamemode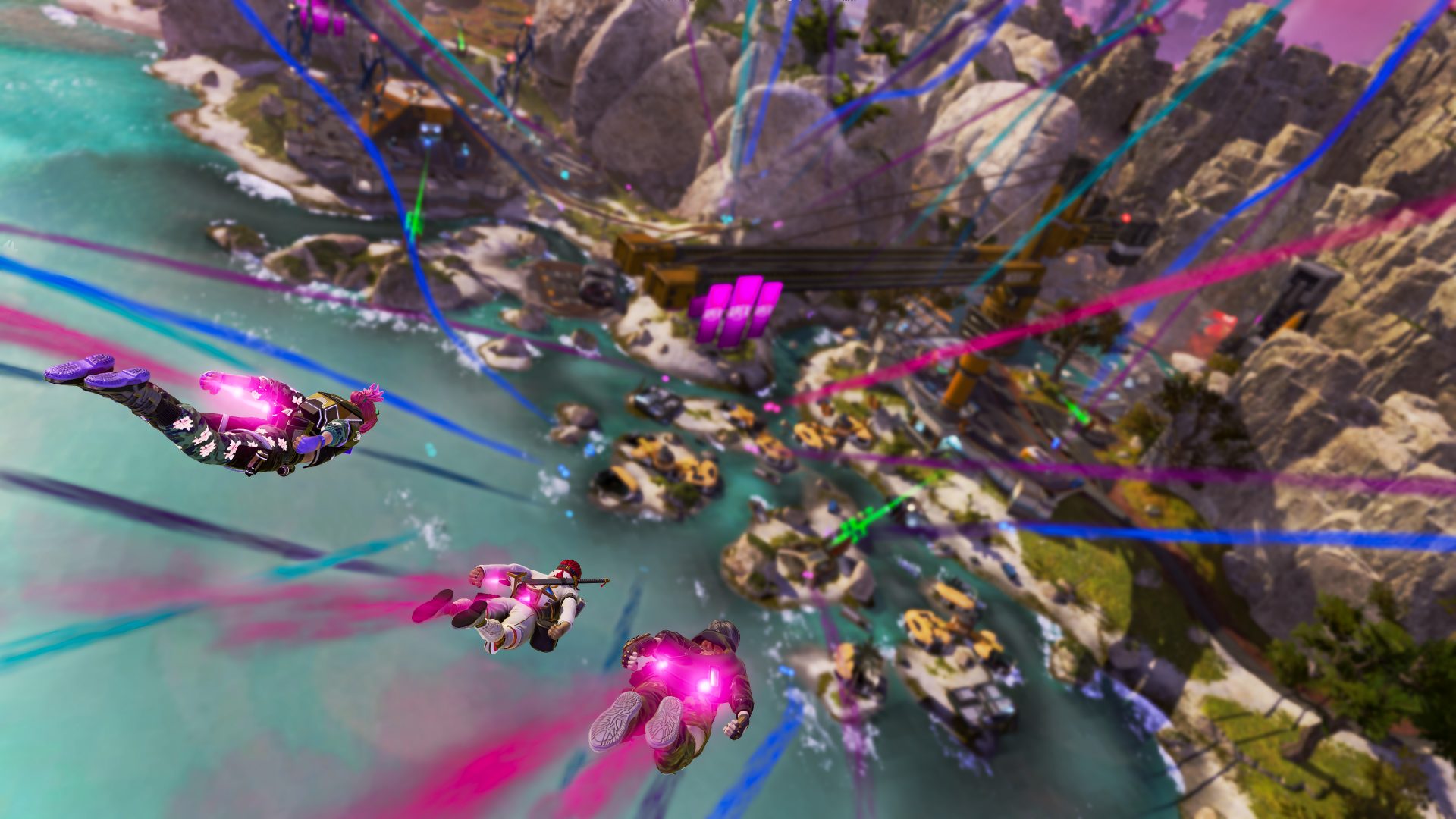 Experience the adrenaline rush of faster revives and temporary invincibility when downed, adding a thrilling twist to the gameplay. In Three Strikes, you and your squad face the challenge of staying alive with three chances to be the last squad standing.
While players can be knocked, they can't be killed unless the entire squad is wiped out. When that happens, your squad will lose a strike but fear not – you'll respawn back into the map fully equipped, giving you another shot at victory. However, be cautious, as losing all three strikes means your journey in the game comes to an end. So, assemble your squad, sharpen your skills, and dive into Three Strikes for an intense battle royale experience like never before.
When respawning, the gear you keep includes:
Armor and EVO progression
Weapons and attachments (except for mythic weapons)
Ammo, ordinance, and consumables
Dive into the action every Friday through Sunday and enjoy 1.5 times the excitement with:
1.5x boost on all XP gained November 10 – November 12, 2023
1.5x boost on XP gained when playing Three Strikes November 17 – November 19, 2023
Post Malone-designed Cosmetics & Camo Credits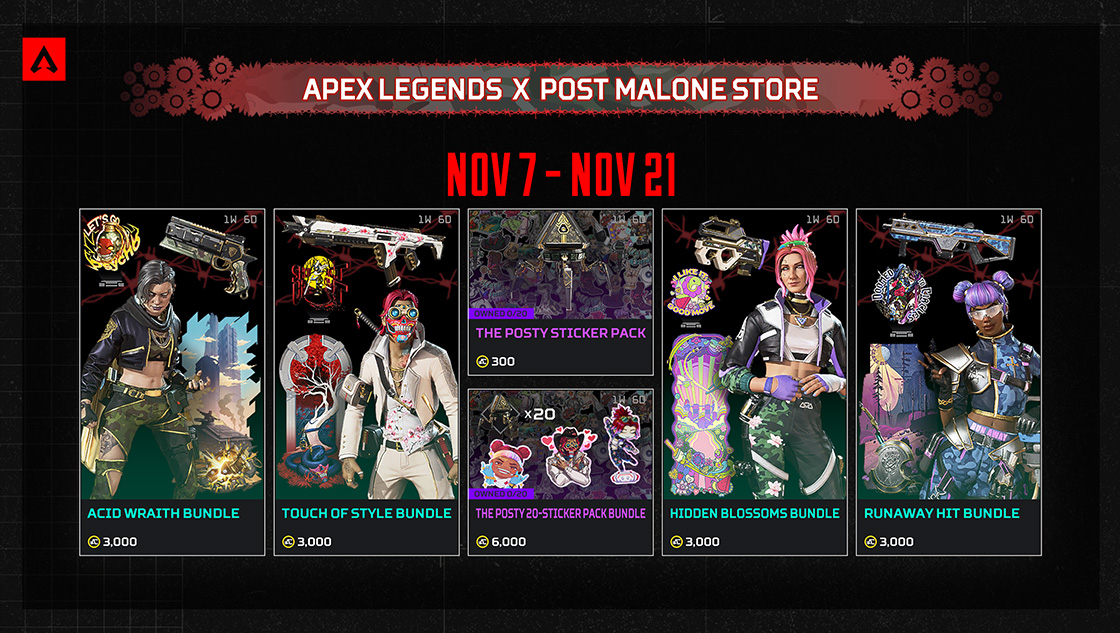 Apex Legends introduces its "Iconic" tier cosmetics, a collaboration with Post Malone, showcasing skins, stickers, and bundles for favorite Legends such as Octane, Wraith, Horizon, and Lifeline.
Players can unlock three Legendary stickers for heals and shields by collecting all 20 stickers from the Posty Sticker Packs.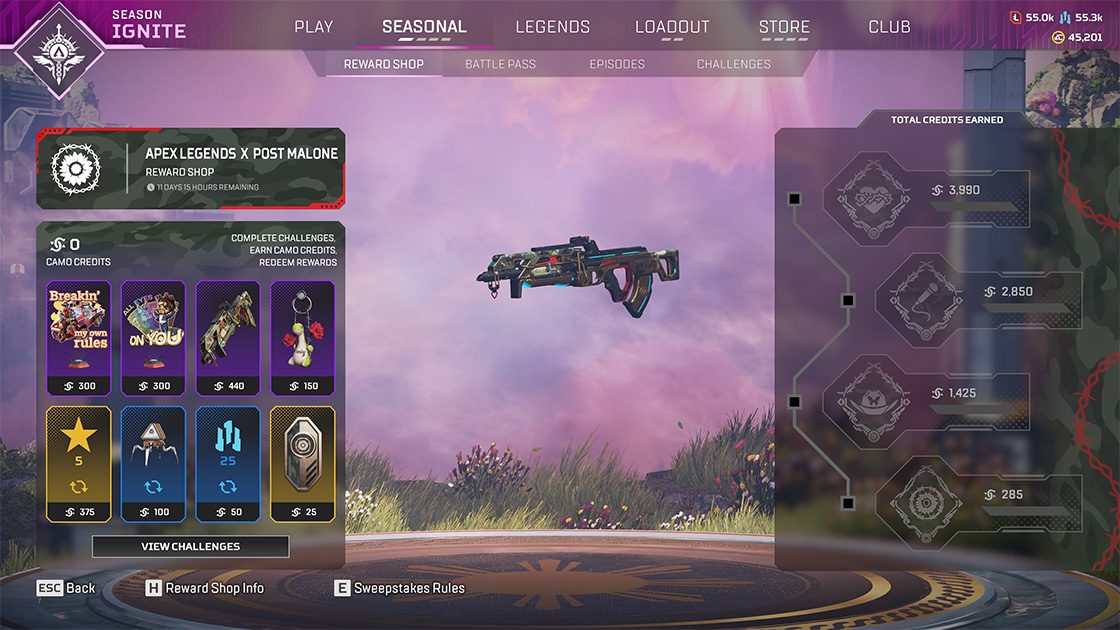 Players can select their rewards using event currency, Camo Credits, earned by completing Daily Challenges—up to 285 credits daily. Use these credits to unlock event cosmetics, limited Battlepass Stars, and Sweepstakes Tokens. However, with only 14 days to earn Camo Credits, players must choose wisely as there won't be enough for everything. Note that Camo Credits expire at the end of the event.
Additionally, completing challenges and earning currency allows players to unlock four distinctive variants of the Apex Legends X Post Malone Event badge.
Twitch Drops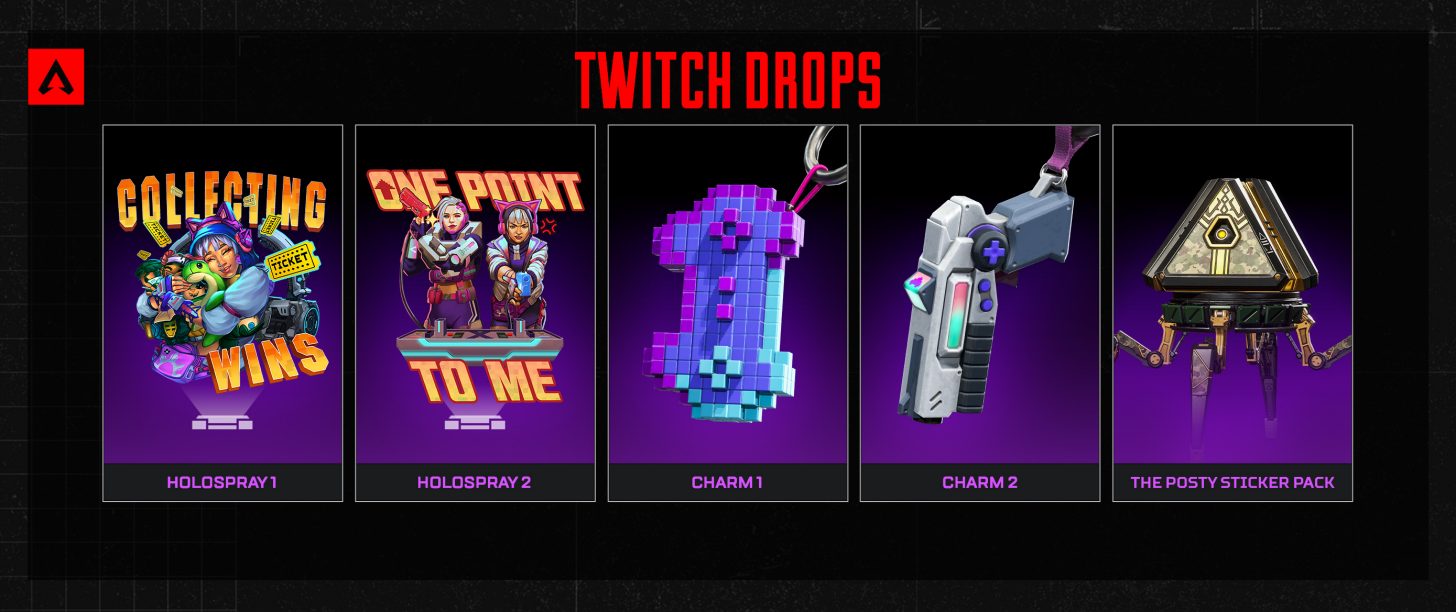 Viewers can catch the action on specific Twitch streams from November 7th to November 21st to secure exclusive cosmetics while watching their favorite streamers conquer the game.
To access these items, sync your EA account with your Twitch account and tune in during the specified dates. Detailed instructions on linking your EA account can be found here.
| | | |
| --- | --- | --- |
| Available | Drops | Hours Watched |
| November 7-14, 2023 | Weapon Charm 1 | 1 hour, 1 hour total |
| November 7-14, 2023 | Holospray 1 | 1 hour, 2 hours total |
| November 14-21, 2023 | Weapon Charm 2 | 1 hour, 1 hour total |
| November 14-21, 2023 | Holospray 2 | 1 hour, 2 hours total |
| November 14-21, 2023 | Posty Sticker Pack† | 1 hour, 3 hours total |