Overwatch 2 has launched a collaboration with LE SSERAFIM with a live performance at BlizzCon, a limited-time gamemode, and character skins.
LE SSERAFIM, a South Korean girl group under Source Music consists of Sakura, Kim Chae-won, Huh Yun-jin, Kazuha, and Hong Eun-chae. Formed in May 2022, they debuted with the EP "Fearless," selling over 200,000 copies in its first week and topping charts. The group is praised for their strong vocals and diverse music style, blends pop, rock, and electronic elements. In addition to their music, they are known for their fashion collaborations and magazine features.
LE SSERAFIM's latest hit, "Perfect Night," captures the essence of a night out with friends. The accompanying animated music video features Overwatch 2 heroes rushing to their concert. Overwatch 2 players can join the fun with exclusive collectible skins and a limited-time game mode, Concert Clash!
Concert Clash Gamemode
Choose from characters like Dazzle D.Va, Traysi Tracer, Kira-Kir Kiriko, BB Brigitte, or Slay Star Sombra in Concert Clash mode. Battle against Fawksy James Junkrat and his antics in a 3v3 showdown. Your objective? Find ticket machines scattered in Busan, destroy them to gather tickets, but beware—if you're eliminated, you drop your collected tickets! After destroying a machine, both teams race to a control point. The team in control adds their tickets to their score.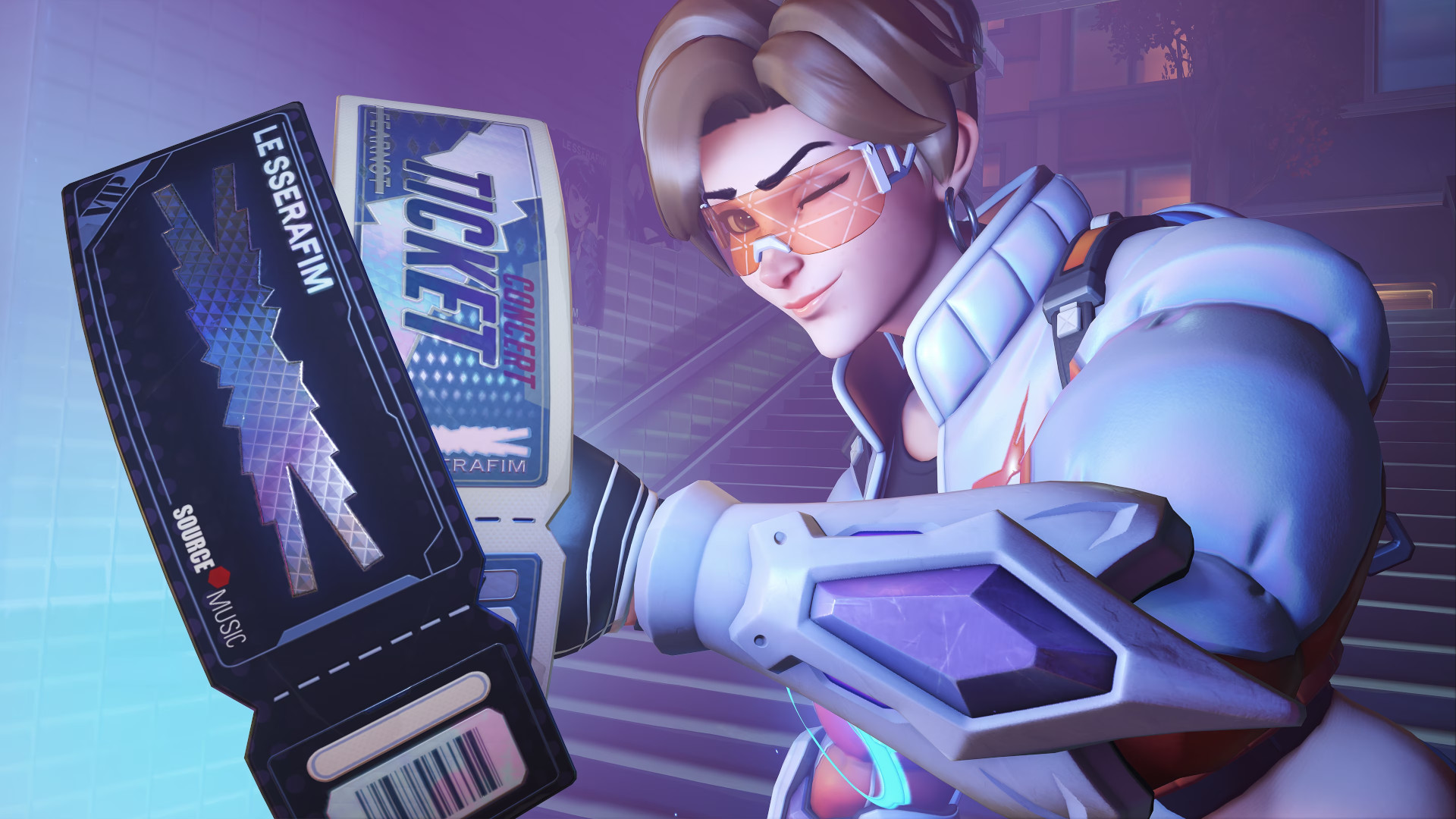 Watch out for Fawksy James—he'll swoop in to steal tickets. Retrieve the stolen tickets and his concert light stick, which gives a massive bonus if turned in at the control point. Be the first team to score 25 tickets and secure your spot at the LE SSERAFIM concert. Plus, complete challenges in Concert Clash or other game modes to earn rewards, including 35,000 Battle Pass XP and the legendary Fawksy James Junkrat skin.
Character Skins
Enhance your collection with five new Legendary skins. Take charge with the Fearless Legendary Skins for Dazzle D.Va, Traysi Tracer, Kira-Kira Kiriko, BB Brigitte, and Slay Star Sombra. Each skin individually costs 1900 Overwatch 2 coins.
Grab your preferred hero's LE SSERAFIM bundle, featuring the Legendary Skin, Spray, Name Card, Emote, and Victory Pose. The Hero Bundles are priced at 2500 coins. Also, Kiriko's bundle even includes a Weapon Charm.
Alternatively, you can demonstrate your ultimate fandom with the Mega LE SSERAFIM Bundle. This will score you all five of the Hero Bundles for only 6800 coins.
Get in quick though as the event ends on November 20.