There was only one hope left for the LCK teams, for the home-country of South Korea. T1 didn't let anyone down and put on a dominant showing.
Through the 13 year history of the League of Legends World Championship, we have only once seen a home-country win for a team. Individually TheShy and Rookie from Invictus Gaming in 2018 got to win in South Korea, but Invictus were a majority Chinese roster who came through the League of Legends Pro League (LPL).
The big heroes were Samsung White in 2014, who after taking on Star Horn Royal Club in the finals were able to raise the iconic trophy in front of the home crowd. Thanks to their win, T1 is one step closing to matching this accomplishment.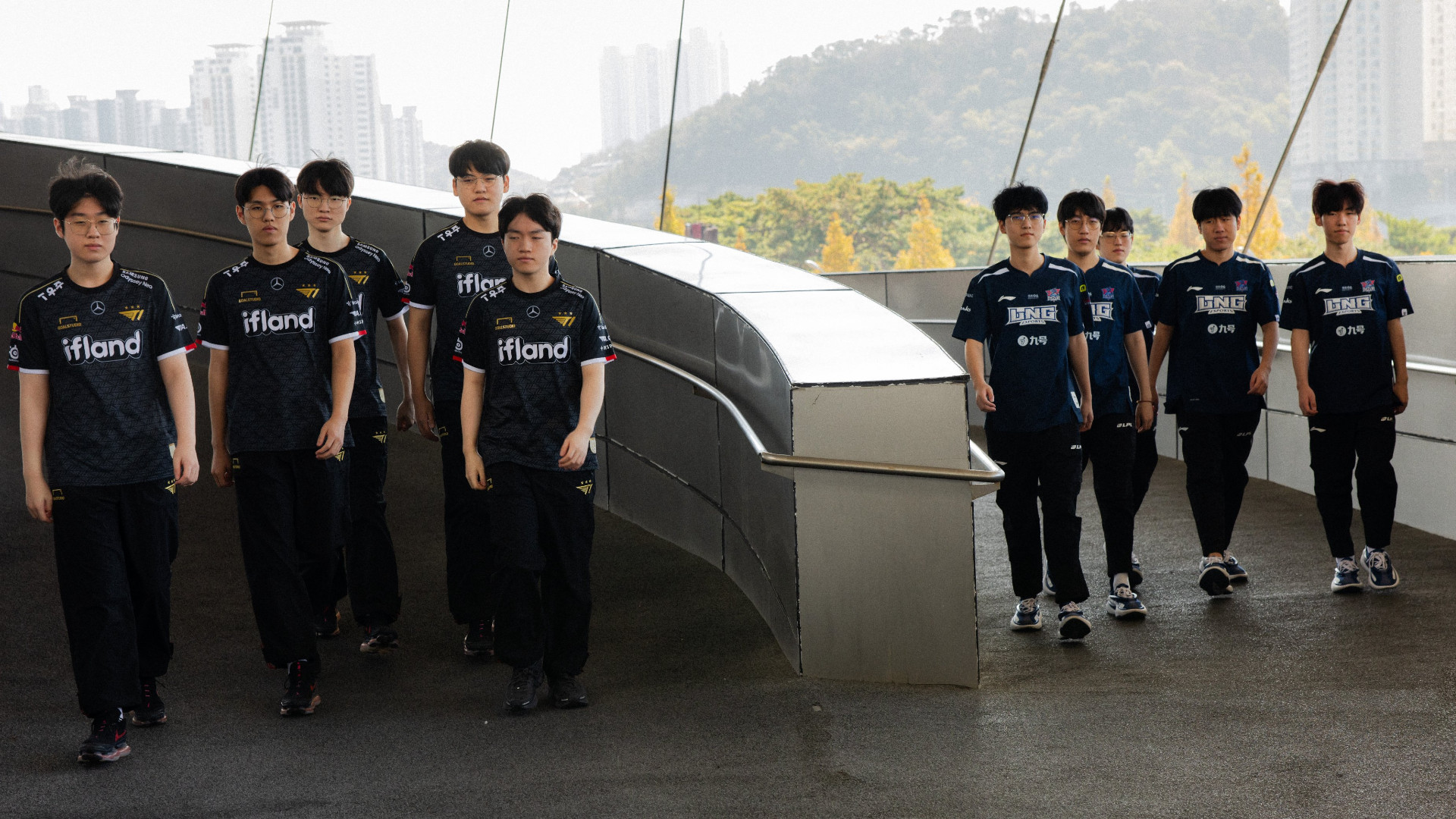 T1 ended the three matches with 34 kills and only 8 deaths, indicating a strong performance. Although K/D is not the sole metric to consider in League of Legends, it serves as a good indicator of the match outcomes. In contrast, LNG Esports failed to secure any drakes, barons, or inhibitors across all three matches and only managed to take down 6 towers, while T1 claimed 25 towers.
LNG are not a squad of rookies, they have a former World Champion in Lee "Scout" Ye-chan (2021). They were also not underdogs overperforming, they were 3rd on the LPL Championship Points table. Ultimately T1 were just the better team on the day and dispatched of LNG in a 3-0 quick series.
T1 will now be going up against a tough opponent in JD Gaming, who are trying to complete the Golden Road. That massive collision will be on live on Twitch (embedded below). Will T1 pull on the hometown advantage to advance? or will JDG get one step closer to completing the Golden Road?
About T1
T1 is a South Korean esports organization that fields a League of Legends team competing in the League of Legends Champions Korea (LCK). T1 is the most successful team in LCK history, having won the championship ten times and finished in the top 4 at the World Championship three times.
Top: Choi "Zeus" Woo-je
Jungle: Moon "Oner" Hyeon-joon
Mid: Lee "Faker" Sang-hyeok
Bottom: Lee "Gumayusi" Min-hyeong
Support: Ryu "Keria" Min-seok
About LNG Esports
LNG Esports is a Chinese professional esports organization based in Suzhou. It was known as Snake Esports from its creation in 2013 until its acquisition by sportswear company Li-Ning in 2019.
Top: Qi "PandaC" Ying
Top: Tang "Zika" Huayu
Jungle: Lee "Tarzan" Seung-yong
Mid: Zhang "Yuekai" Yuekai
Mid: Lee "Scout" Ye-chan
Bottom: Chen "GALA" Wei
Support: Fu "Hang" Minghang