At the League of Legends World Championship 2023, LCK's dream lives on in T1, while the dream of the Golden Road ends for JDG.
Hot on the heels of Weibo Gaming locking in their grand finals spot, T1 joins them. T1 and their star player Faker are no strangers to World Championship grand finals. Having raised the trophy in 2013, 2015, and 2016. They also came in second place in 2017 and 2022 and are the most decorated LoL organization.
Unfortunately for JD Gaming they join the hall of teams who were one win away of the Golden Road. It wasn't meant to be, as Faker said "all roads lead to me." They can still hold their heads up high, a podium finish at Worlds and three big wins for the year is a massive accomplishment.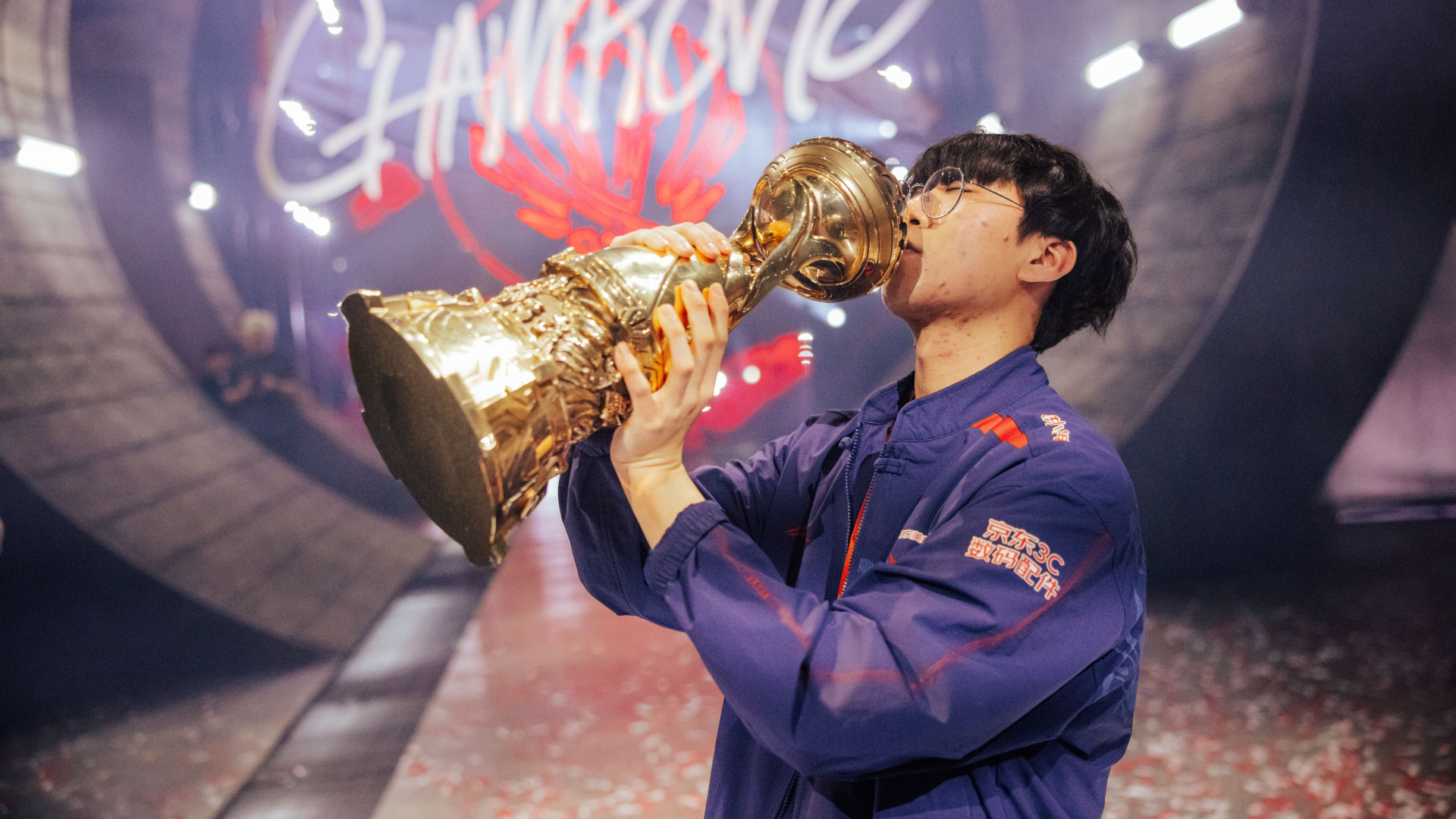 The Mid-Season Invitational 2023 winning JD Gaming came out swinging in the first few games. Unfortunately they missed with their first shot, but the second connected directly into T1's jaw. Leaving the series tied up 1-1 and anyone's game.
From there Faker, Keria, and the rest of the T1 gang kicked it in to high gear. Game three was a closer game and possibly left some hope in JDG's veins. Then came Game four and T1 were determined to close it out and not take it to a game five. The final nail was driven in to the coffin and JDG were sent home without the fourth trophy of the year.
Upcoming Games
We know know what the big clash is going to be and it will be T1 vs. Weibo Gaming. That epic conclusion will take place on on Twitch (embedded below). It will also include performances by NewJeans and HEARTSTEEL. With Faker get a 4th championship? Will TheShy be able to stop him?
About T1
T1 is a South Korean esports organization that fields a League of Legends team competing in the League of Legends Champions Korea (LCK). T1 is the most successful team in LCK history, having won the championship ten times and finished in the top 4 at the World Championship three times.
Top: Choi "Zeus" Woo-je

Jungle: Moon "Oner" Hyeon-joon

Mid: Lee "Faker" Sang-hyeok

Bottom: Lee "Gumayusi" Min-hyeong

Support: Ryu "Keria" Min-seok
About JDG
JD Gaming (JDG) is a Chinese esports organization that fields a League of Legends team competing in the League of Legends Pro League (LPL). JDG has quickly become one of the top teams in the LPL, finishing in the top 4 of the league on multiple occasions.

Top: Bai "369" Jiahao

Jungle: Seo "Kanavi" Jin-hyeok


Mid: Zhuo "knight" Ding

Bottom: Park "Ruler" Jae-hyuk


Support: Lou "MISSING" Yunfeng