Immediately following their massive win, Grady sits down with Splicko from Athletico Esports' Dota 2 team to talk about the LetsPlay.Live event, their super sub ningy, and whether or not they are the best ANZ Dota 2 team.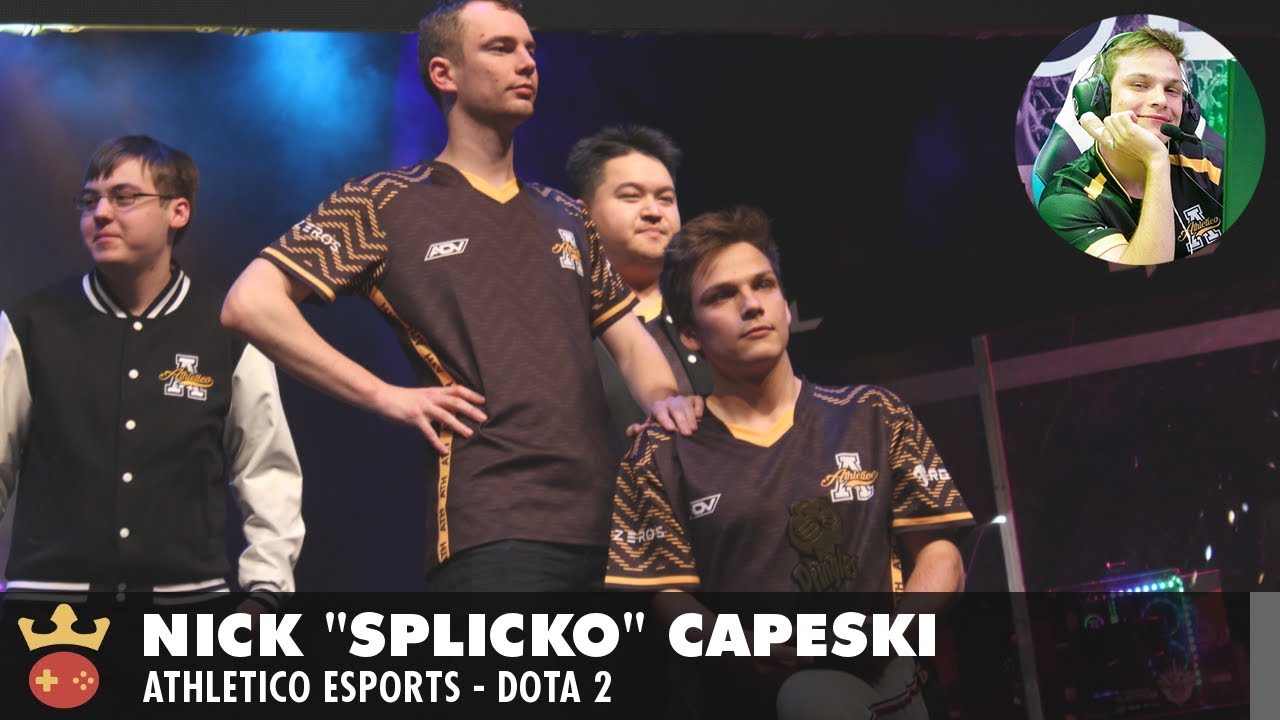 Grady: We are here after the grand final with Splicko from Athletico. I have got to ask, how does it feel to win?
Splicko: This one feels amazing. This one feels incredible. Last few LANs we've been to, you come in as the champs, the reigning champs, the complete favorites. Those ones get nerve racking because if you lose, there's so much on the line, if you win, everyone expected it of you. This one was really different, we were missing our star player, XemistrY, in the mid lane and because of the late notice we had to switch around some roles and I got put on mid lane and we had ningy as our sub. Our super sub by the way, I think he played phenomenal, I think he was man of the match for sure.
Me on the mid lane was a bit scary, not too scary, but when you bring into account miggeL.Z coming back into the scene, very dominant player, I was very nervous. If you ask my whole team - all today I was a nervous wreck because I felt like he was going to just give me the treatment, but I feel really good about myself. I felt like I held my own against him in the lane and then I made plays that I knew I could make to come back in. That's why this one meant a lot to me, because I got to experience something new, new lane, a new opponent and on top of it all this event is incredible and the production value is insane.
You guys have won a few in a row now, it seems like you're just dominating everything. Do you think it's fair to say that you're the best team in the ANZ region?
Oh, for sure. I would have said it many, many months ago. It's not from a technical point of view or mechanical at all, like clicking the buttons and all. It's just sticking together, good teamwork, and we all agree on the same thing. That's the main thing, having a captain and a co-captain that consolidates the team, I am co-captain and Fury captains, everyone just respects each other and that's all we keep running off. We don't run off anything too special - no crazy training schedules, no nothing, we just trust each other to the full of our ability. I think that's how you win games.
If we're talking about that and how it's so tight as a team, you had to bring in a sub last minute, how well can they mesh in?
I think with our sort of team environment, it's very easy to come into it because none of us will ever put you down. We try to give you your best game, we try to give you exactly what you would want in your perfect scenario. For both games our super sub ningy; he picked his hero, he picked what lane, he picked everything, he picked items. He just did absolutely everything that he wanted to do and we sacrifice what we need to do to make that happen and we put him as comfortable as possible. He contemplated not coming to the LAN today, a week ago, because he thought he wasn't good enough to play and you can't tell me that kid's not amazing. Oh my God, sometimes I just stopped playing and I was just watching him because it just looked magical, like those catches on the Alchemist [Hero] in the first game. So bringing someone in is really easy. It's hard losing that extra man, that player you really care about, but bringing in a new one just feels easy. When we're all friends, we all go out, we all talk so often that he just fits right in. If there was ever something he could do better, we tell him and he just gracefully accepts it.
Total friendship outside of the game and everything, then when it gets into the game, from an audience perspective, you guys are the most hype team. Is that just to keep everybody rolling?
It's the best thing we do. It's one of the few things we love the most and it's honestly the day that we all wait for every two or three months, because there's so little [LANs] in the scene right now. It's the day we all wait for, so when we get to it - between me, Fury and TEKCOR - we've been long mates. Me and Sam (Fury) are best mates for four to six years, TEKCOR I've known for about five years and we've been playing together for two and a half. We just have fun, because there's no reason coming here to not have fun and it is a lot of fun.
Your performance in this tournament as a whole, you guys came into this unbeaten and then you walk out of this still unbeaten. Is there anything that could have gone better for you in this tournament?
I loved having ningy here, but I would have loved to have XemistrY here. He was gutted when he found out it was on a weekday, because of his very hard commitment to uni and becoming a doctor. I was a little sad that we didn't get to bring him along for the ride and I feel really bad for him because this is the most amazing event yet and he didn't get to be a part of it. I do feel bad for him, because I know he would've loved to be here, I know he was watching at home, and I knew he was just gutted that he didn't get to be here.
Are you going to take a bag full of Pringles home for him?
I wish, but I only have carry on. Unfortunately I've been given way too many freebies already, so I'm probably going to go over that seven kilograms. I'll probably triple jumper and put some Pringles [in the pockets].
At the start of the game, that Hero Draft, how important is that? Because it seemed like one thing could go wrong or something could be changed and then the course of the game changes.
It's not just drafting, you're not just picking the hero, you're creating the strategy you're going to go with that you all agree on. If don't all agree on it, you're not going to play the strategy and then you will never know why it didn't work, because you didn't play it to the best of your ability and you didn't believe in it. I believe the draft is about 85% of it, 15% of it comes down to individual play. If we were versing a top tier team in the world, we would just get flogged on that 15%, I feel like our strategy could hold up, but I think mechanically would fall off. I do believe it's one of the most important things in Dota and that's what me and Fury spend hours and hours and hours talking about, that's the one thing we do is strategize. I don't play my heroes, I talk about the game more, because that's all you need to do.
When you're doing that sort of strategy stuff, is it more about what your team is going to do or counter-strating what the other team is going to?
You never play to deny the enemy, because that's playing to lose. You play to your strengths and you play to your win condition, that is what I like to do. Many teams do it internationally and they make it work because they can all agree on it, but for me and Sam, we personally agree that you play to win, you don't play to lose. We create a strategy that we're winning with, we create a strategy that's going to beat what they've tried to come up with, and then we just go with what we know we're good at. There were a few times in those games where we didn't know if it was the right call, but we said it at the start "That's what we're going to do", so we just did it anyways and it paid off.
If we look at the difference between game one game two - game one seemed a lot closer and then into game two, there was no hope at that point, it was just a steamroll. What was the difference?
There are a few factors I'd like to believe. I think in the first game the stats are skewed because of the Alchemist [Hero], he makes it so games at 25 minutes are just naturally hard. Unless you have five heroes that can just push a lane, the game is always going to look a little hard, but he's not a very good hero in the mid to late game. He caps out his items, he's not that useful as soon as you have things to deal with him, which we did, we had lots of minus armor to make sure we could cut through him, and then the Juggernaut [Hero] all day will contest the Alchemist hit the hit.
When it got to 30 minutes it looked bad, but we were always in control, we were always going to win that in the late game, especially because of Clinkz' [Hero] 25 talent, a searing arrow split shot. It changes your damage from x amount to literally double and if you saw the end game screen, unfortunately I don't think you guys get to, but it was a 50k damage on the Clinkz. It's very hard to play into heroes like Axe [Hero] in the late game, because unless you have that banish you can't save your ally, then Clinkz' 25, and then Juggernaut is unkillable. We were never worried about that game. The second game, it looked worse than it was because they were crumbling as a team, and that's just the lack of being a team for awhile; they got a new sub, new positions, new roles. I think spirits dropped and comms would have dropped, I believe, because that's what tends to happen in newer teams is they don't know what to do and you go a bit quiet. That's when us screaming in the other booth probably puts them off a little bit.
It's a double-edged sword. It gets you guys hyped and gets into their head.
That's exactly it, you need to be feeling it. It's a LAN, LANs are different to sitting at home at your computer, when you come here, you need to be able to take the pressure as well. Tien [Player on Shutdown ESC] couldn't handle the pressure [laughs] we are good mates.
What's next for Athletico?
We're going to keep doing what we've been doing. We're going to keep playing every Australian tournament we can, we're looking to branch into the SEA tournaments, even though we're hit with that ping. We are going to keep trying to help as many people as we can in the scene, in terms of learning. We are best friends with two or three of the people in the other team and we talk nonstop, we told them all our strategies and we say "beat us". We want you to beat us because if you beat us, we've got to get better to beat you. We don't hold back in making sure everyone knows how to beat us, why to beat us, because we just want to make Australia better and that's what our whole goal was from the beginning when we joined Athletico.
Thanks a lot for the chat. I'll let you go celebrate.
Cheers for that. Pleasure.