Back at IEM Sydney 2019, Grady had the chance to talk to the in-game leader of Heroic, blameF, about a number of things including; playing with friberg, events having third-party qualifying spots and how he got into Heroic via a phone call from peacemaker.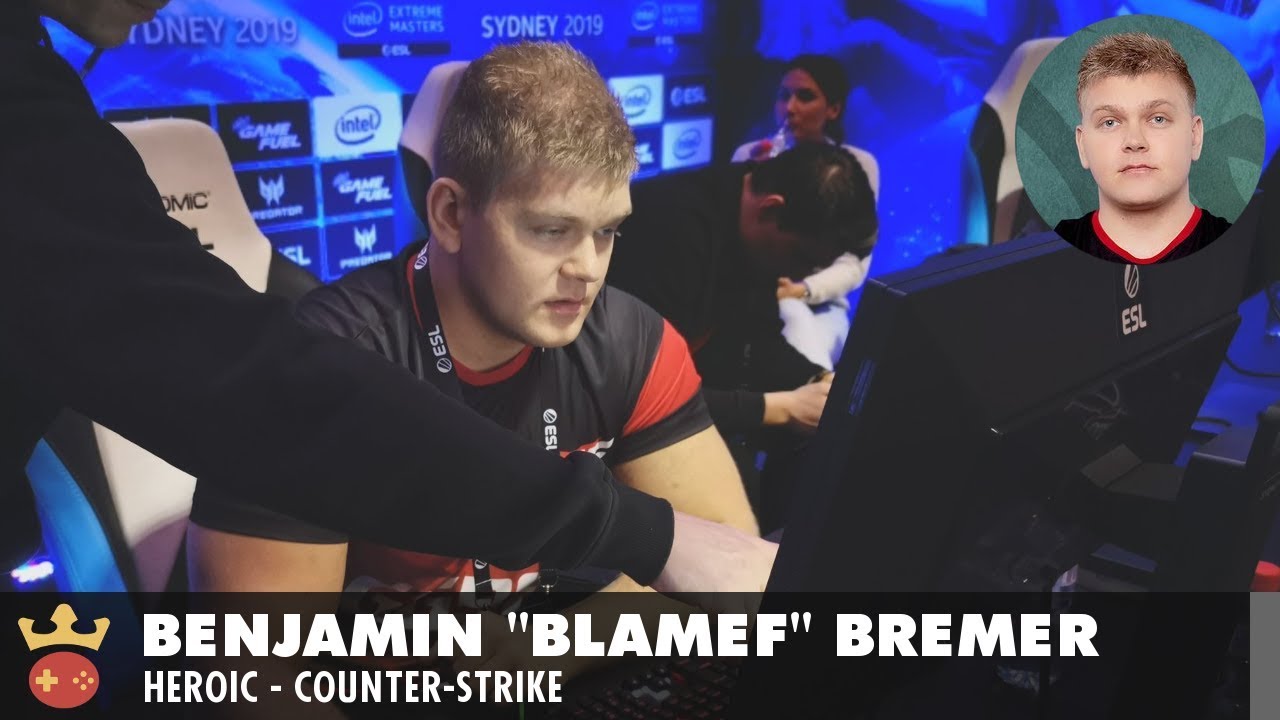 Grady: We're here at IEM Sydney with blameF from Heroic. How you found Sydney so far?
blameF: Pretty good to be honest. I've had a couple of days, we came here a bit earlier than the other teams, so we had a few days to explore the city and look around. I went downtown and to the zoo, I think it's nice and the weather's great, so nothing to complain about.
You guys went through the GG.Bet Qualifier to get here. What do you think about giving out a qualifier spot for events like this, off to third party tournament organizers?
I think it's really nice, for a team like us as we will not get invited directly, we have the chance to prove ourselves through open qualifiers and closed qualifiers. For us it's a really good opportunity and I think it's great that underdog teams get the chance to play at big events. I think every event should do that.
With Heroic, you've got friberg, the veteran, on your team. Do you feel like there's any sort of division between the old guard and the new guard or does everything just mesh together?
I think the biggest difference is probably that friberg, because of his experience and playing a long time, he's really good at talking and communicating. He brings a lot to the table other than just killing people, whereas some people in the team have the roles where they're more focused on only killing people, bringing in good stats, or showing good performances in the important roles. I think every team needs a friberg, to have some people that look around for the other stuff and take some positions that might not be as good as the others. That has helped the other guys to perform better.
Do you know what tournament's up next for Heroic?
We're going to Leicester to play [ESL] Pro League and we're playing a Closed Qualifier for [ESL One] Cologne when we get home. We don't have a lot of days off, I think we have one day off and then we are playing [the qualifier for] Cologne when we get home. Hopefully we're not jet-lagged.
Do you find with the number of events, that you don't get a lot of downtime between events?
It's not a lot of downtime we've had lately. In the first couple of months in this team we had some not good showings and then we had nothing. For me, I'm really excited that we get those periods where we actually get to play a lot and travel the world, so I'm not going to complain about any of that.
You're loving just getting out, playing the game. As you say, seeing the world and seeing all the fun stuff
I'm just happy to get this opportunity and do what I love for living.
How did you get that opportunity to play Counter-Strike on such stages?
This is my first big team, where I actually can make a really good living for it. In January, right after Christmas, peacemaker (the coach) approached me and said "Hey, what's up? You look nice." I knew from that second that I had to impress him, so I did everything and sweet-talked the guy. Now we're good friends and I'm happy to be the team and hopefully we will do even better than what we're doing recently.
When you come to a tournament like this and you have results like these, do you go back and view the demos and see what's wrong and try to fix everything?
Of course. The way we went out of this tournament was devastating, we under-performed a lot and the team has not been playing like what is okay. We will use a lot of time to fix this and find out what actually went wrong. We always start by watching all the demos and we will make sure that these performances never happen again, because there's expectations on us and we expect a lot from ourselves. It's always okay to go out of a tournament, but some ways are not really okay. We will spend a lot of time fixing the mistakes and coming back stronger.
I'm just going to say Vertigo and then point the microphone at you.
I don't know what to think of the map to be honest. I think it's a bit too fast paced, myself, I like a lot of structure and I like the tactical aspect of Counter-Strike. We haven't had much time to look at it, but we will have time when we get home and we have a lot of off days where we can actually sit and look at a map and prepare for it. Hopefully it will be a nice, I think it's an interesting map 'cause it very different from the others. I'm excited for it, but I don't know, probably not going to be my favorite map.
Last question, on your jerseys, the lovely red and white Heroic logo. It has been through a few iterations before, do you have a favorite version of the Heroic logo?
I think the new one is really nice. I like that when I came in we kind of made a new team, we got some new players and then we got a new brand with it, so I think that fits well together.
Thanks a lot man.
Thank you bro.
Stay tuned for more of our content from IEM Sydney as Grady got 16 sit-down interviews with the players from Counter-Strike and even Overwatch on the weekend!