Back at IEM Sydney this year Grady got the chance to sit down with chrisJ from mousesports, just as that lineup was beginning. They talked about always being the villains with the crowd, seeing the numerous mousesports rosters grow and the importance of the player break.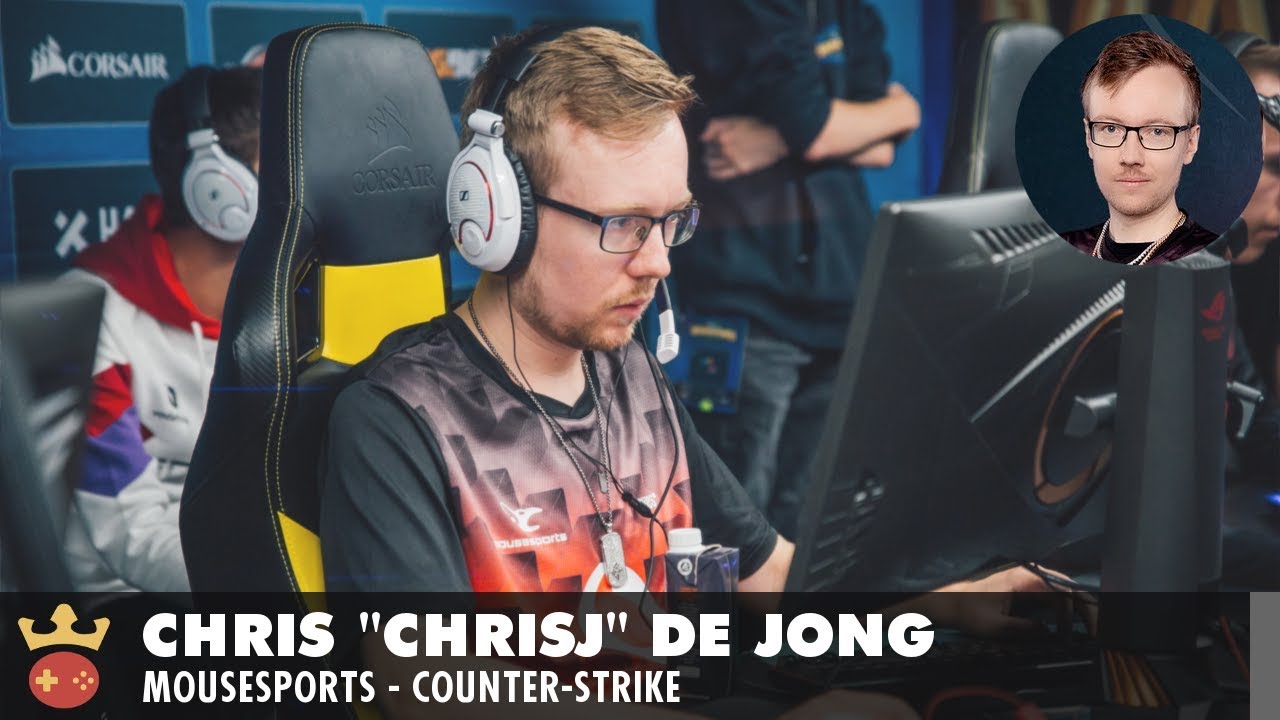 Grady: You've been with mousesports for a really long time. What's it like seeing the evolution from when you first joined to now, even before this most recent roster switch around? Just how much mouz has evolved.
chrisJ: Yeah, it's been pretty cool to see. Obviously when I joined, the whole CS scene was at a lower level, mousesports was definitely not at its peak. In 1.6 it was, I would say, a legendary team - I definitely looked up to them, back then they achieved so much. When I joined mouz we obviously had high hopes, but things just didn't go so well for a really long time, and then eventually becoming a pretty good team, and winning tournaments sometimes. It was awesome to be part of it.
In this most recent iteration, or the jump between the iterations, was that something that the organization or the team wanted to do? Or was it something that through circumstances they were forced to?
The previous team was just past it's date, you know, we achieved a lot and at the beginning of the lineup everybody was super hungry to really want to win and want to work and stuff. At some point, sometimes in a group of guys, things start to bother people and things just are not the same anymore after certain things happen. We had some big success, we had some losses and it's just changed the team, the team was not the same as the team that was winning tournaments before. We could never go back to the same situation with those five guys or those six, with the coach. So it was not that people hated each other or that anyone has bad blood, but it just wasn't gonna work anymore and everybody knew it. So something had to change and yeah, it happened.
Throughout your tenure with mousesports, as we just said, you've gone to inactive before and you've jumped back into the roster a couple of times. What's the emotion like going to the inactive side and then being asked to come straight back in?
The thing is, in one way it kind of sucks because it feels like the team or whoever decided it, doesn't think that you are not good enough, then again it's just a job for me. Maybe it's more than a job, but I still tried to see it as a job in situations like that. If I need to play again, then I'm going to play again and I'm not gonna complain about anything. I'm glad I got another chance to play and prove myself. I feel like it was a good lineup as well, that was made now. It made sense for me to be completely motivated again and want to mentor the team.
At IEM Sydney, you guys made it through the playoffs and that means you got this lovely crowd that you can hear behind us through the walls. Do you like playing in front of a really loud crowd like that?
Yeah. I really like playing with a crowd and I also love it when the crowd is against our team, because I know it adds something special when you hear them shouting the whole time and you can feel that they want you to lose. Then if you can win anyway, it just adds something special. Even if the crowd are not really sided for any team, as long as they are loud, they just add so much energy to the match and makes the rounds way more fun to play. It feels like your kills and your actions in the game have more impact when everybody reacts to it directly, I really love it.
You talk about loving being the villains, so you must love Australia then because it seems like mousesports, with completely different lineups, but still versus Renegades. You just love to take out the hometown heroes.
I mean it's not only in Australia, with the old team we had this quite a lot in America or in Kiev, Ukraine. The thing is we were an international lineup back then, and we are right now again, so we never really have a home crowd. So in most places we're going to be the bad guys in that sense, but we made that our advantage at some point.
Do you find, because everybody's coming from different backgrounds, different countries, nationalities, do you find it's hard to get everybody to mesh together or is it just the right combination?
Sometimes, but I don't think it's necessarily much harder. I think it's hard anyway, because if you're going to have five or six guys living together on the road for weeks and sometimes months, things are going to get difficult sometimes anyway. Even if you're coming from the same country, it's not like everybody in the Netherlands is friends with each other, right?
So that's just how it is, you need to make it work with others. You need to be professional. Sometimes you're better friends with this guy than with another and that is just how it is. Sometimes when people are from different countries, there can be some things that people are used to that are really weird for the other. Even though one guy doesn't mean disrespect by doing this in the other country, it can mean you're doing something bad. It can add some more difficulties, it certainly doesn't make it easier, but I wouldn't say much more difficult.
You talk about being on the road all the time. Do you get much downtime between tournaments? Because it feels like there's a tournament every weekend.
That's one thing we also felt with the last lineup, we played too many tournaments at some point and we didn't have time to practice. That's why results started to get worse, frustration started to build up more quickly because we were just not on our best level and that's something we try to avoid now. The thing is also we are not really in a position now to decide to skip tournaments, because we are not a top five team like we were last year. So we need to take every chance, every tournament we can get to show our best. You need to watch out for that, it can get really tiring real quick. Especially when you're going to America, then Europe and now Australia, the jet lag and the time zones - it's hard on your brain.
Since you've been in mosuesports, CSGO as a whole has changed as well. Do you have a particular change that Valve has made over that period where you're your like "This has really changed the way that people play Counter-Strike"?
I'm not sure. There have been some pretty big changes, CS was such a different game in 2002. CSGO was such a different game in 2013, it was way more running around and spraying and stuff. I don't know. I feel like overall all the changes they made over the years have accumulated to a better version of CS. The best team usually wins now, in the game we play right now, and I think obviously a team like Astralis has definitely proved that if you're just a better team, you going to win most of the time and I think that's good.
One of the latest changes that Valve made was bringing Vertigo into the competitive map pool. Have you had a chance to play it?
Yeah, I've played it. I played it before as well, sometimes on matchmaking. Obviously now that we're done with Sydney, we're gonna play it a lot more than before because we were playing Cache still, so we had to be ready on that map as well. I don't know, the map doesn't seem that good, seems pretty simple. There doesn't seem to be so many options, it just seems to be really fast paced. It's different than your normal, but I don't think it's good to have the map in there for the long term and we will see how it develops.
Do you think a decision like that where they're changing out the competitive pool should have maybe been shopped around to the pro-teams beforehand?
I think it would make sense. Valve is always going to do, in some way, what they want. It would be good to at least talk with teams about it, because I don't think it's bad to change the map, but maybe together with the teams a better decision on the map could have been made.
In terms of communication from Valve, recently they announced the major dates 2020 and 2021. Have you had a chance to look at those?
They actually did the dates that we asked for with the Players Union, so Valve listened to the players in that sense. That's really nice of them. I think almost all the teams are happy with how the major dates are now in a sense that you can have a player break and kind of a normal vacation times.
How important are those play breaks between tournaments?
Honestly, if you wouldn't have a break, everybody would be so burned out. Even when you take the break and when you're one of the top teams that can go to every tournament, you need to skip some tournaments. If you go to four different tournaments in one month, it's just too much, you cannot be at your best level for four different weekends. You need some time to rest and practice. When you play a lot of matches, everybody's going to see what you're doing, so you need to take some time to come up with new stuff or else you're just going to be way too easy to read. In the player break, you're not really going to do that, you're just taking time off from the game. It's important to rest and it's important to find new things.
Final question. We keep talking about these teams who are in the top 10 and can afford to skip tournaments. How much longer until you think this new mousesports lineup is in that category?
I don't know. Things started going a bit quicker in the right direction than we expected, instantly qualifying to ESL Pro League finals was really good and then reaching playoffs in Sydney was also pretty good. We had a close match against MIBR, we hoped to have went further, but it is what it is. I feel like our main goal is just to be good when the majors take place and to at least qualify to the major again. We're definitely giving ourselves time in that sense. I'm not sure off the top of my mind when the major is now, but in a couple of months we hope to be at our peak.
Cool. Thanks a lot.
No problem.
Stay tuned for more of our content from IEM Sydney as Grady got 16 sit-down interviews with the players from Counter-Strike and even Overwatch on the weekend!