Thanks to the guys at GOATi Entertainment we had a chance to play 22 Racing Series on a massive screen on the PAX Australia show-floor. So let's take a look at our experience playing the game and what we learned about the aim of the game, how it is feeding into esports, and where it is going to go from here.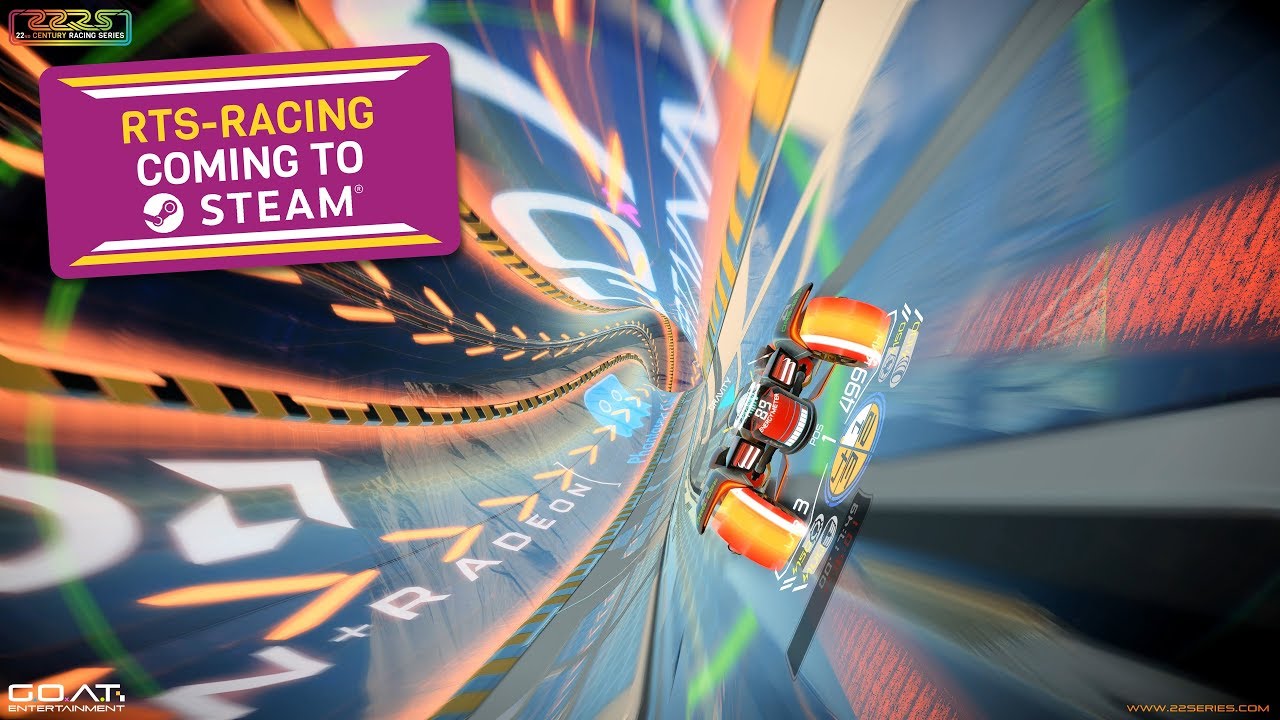 What is 22 Racing Series?
22 Racing Series is a hard one for me to label with a genre. I've heard it be described as "A mix of Wipeout, Gran Turismo, and Monopoly" which doesn't help with placing it in a box and that is a strength of it. This game doesn't sit in a box, it doesn't aim to compete with the GT Sports and Project CARS, it doesn't aim to compete with the Mario Karts and Crash Team Racings. It is it's own entity and a completely unique one at that.
On the box, 22 Racing Series has completely realistic physics, but with a futuristic setting that allows your cars to go up to 1000kmph. Your car can and will also drive sideways, upside down, and through the air. The game also fully supports Virtual Reality and the team has put a lot of effort into minimizing nauseating effects while racing a car that is going as fast as the ones in this game are.
Although you could play the regular one-person race style to set the best time possible, there is another multiplayer mode that is based around team battles. These team battles involve a group of racers trying to collect "sectors" of the track by setting the fastest time through them. Owning a sector gives your team a much-needed boost as well as owning most of them being one of the possible win-conditions (other than just finishing first).
What did you think of it?
When I played 22 Racing Series I was walked through a tutorial that slowly showed me the many mechanics within the game, including how to control while in the air as well as all of the different kinds of boosts you can obtain. It seemed like the type of game that is easy to pick up and begin playing as a party game in split-screen, a dieing feature in games today, but also extremely hard to master to the top level.
I did struggle in the air portions of the track, failing to keep my vehicle lined up for the landing and often ending up on my hood. It was easy enough to reset and give the jump another try though as the checkpoints kept my progress throughout the lap. I don't think I am setting any records with my gameplay, but I still enjoyed the limited experience I had with the game.
But what is next?
22 Racing Series will be going into a closed beta with esports players, community sports groups, and collegiate teams - this will test out the multiplayer servers and also allow for additional feedback before release. I believe there will be a collegiate esports tournament held in Australia as the first dip into an esports event for this game before being opened up to the public.
In terms of features, I was informed the game is planned to be entirely mod-able and that racing around Bathurst with these super-cars is completely possible. Mods will open up an infinite amount of options for community creations and tie in well to a track builder. The track builder changes the game again into, as one YouTube commenter puts it "A HOT WHEELS RACER?!?".
How do you get your hands on it?
The game is currently set to launch on Steam in the middle of next year, you can add the game to your wishlist right now over on Steam.
Here is the full set of social media links for 22 Racing Series: